基於企業微信的線上系統,樂山集團特別自主研發移動財富管理系統——"樂力小助手",為集團私人及家庭客戶提供隨身便捷安全的保單自助查詢、家庭保單和信託一站式電子化管理服務,便利快捷、私密安全。
At BIPPO, both your personal convenience and information security are important to us. Based on the online system of WeCom, we customize a mobile wealth management system, namely "Bridgeharbour Assistant", to provide individual and family clients with a convenient and safe one-stop mobile platform combining self-service insurance policy inquiry, family insurance and trust portfolio management functions.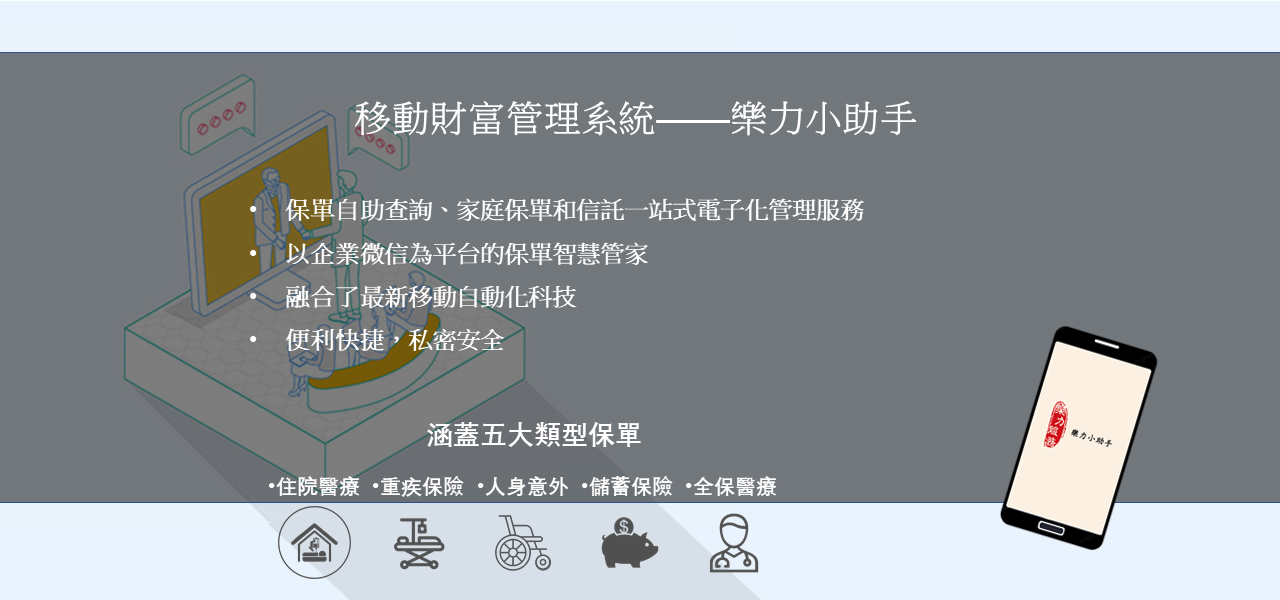 樂力小助手是一套以企業微信為平台的保單智慧管家,並融合了最新移動自動化科技及騰訊企業級應用,安全、可靠、高效、私密,可協助代理人共同服務家庭成員,幫助給予客戶更好的服務體驗。
其操作界面類似於微信,操作簡單方便,無需下載App。客戶可以使用其進行自助查詢,隨時隨地掌握自己家庭的保單、信託相關信息。
Bridgeharbour Assistant is a digital platform for policy management. It integrates the latest mobile auto tech and Tencent's Wecom, an outstanding online enterprise collaboration application, which is safe, reliable, efficient and private. The platform can help agents to serve family members together and help give customers a better service experience.
With an interface similar to WeChat, it is simple and convenient to operate without downloading the app, and customers can use it to conduct self-service inquiries and keep track of their family's policy and trust-related information anytime, anywhere.