BIPPO Group and Thornburg Investment Enter Strategic Partnership
On June 3, 2021, the MOU signing ceremony of strategic cooperation between BIPPO Advisory Group (hereinafter referred to as "BIPPO Group") and Thornburg Investment Management Limited (hereinafter referred to as "Thornburg Investment") was held in Central, Hong Kong, at the headquarter office of BIPPO Group. Ms.Shanshan ZHENG, the CEO of BIPPO Group, and Mr.Yong ZHANG, Co-Head of Asia of Thornburg Investment, entered into the agreement on behalf of the two institutions.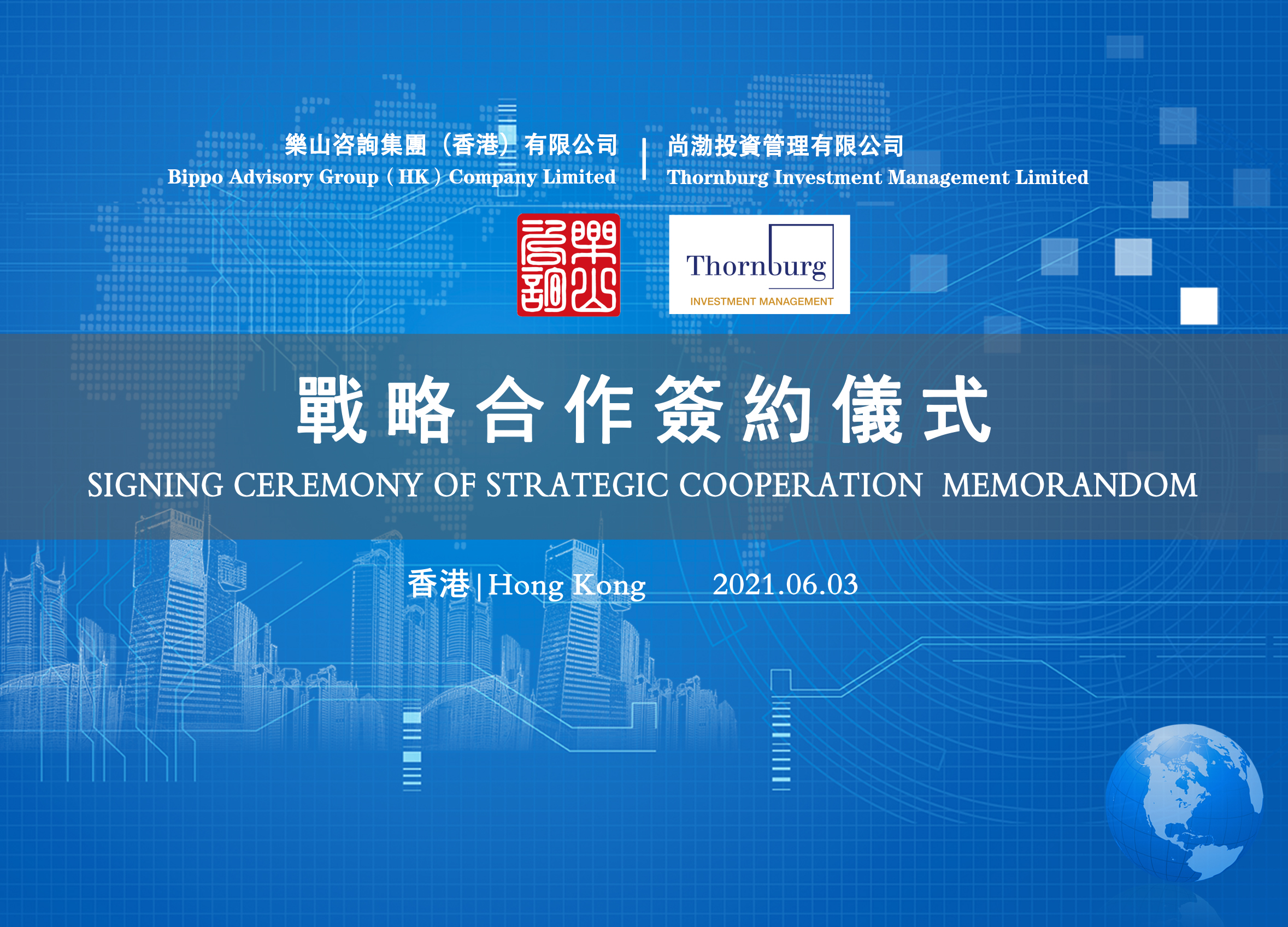 The achievement of this strategic partnership is that BIPPO Group and Thornburg Investment will make joint effort to provide Chinese High Net Wealth Individual Clients with customized private wealth management and asset investment service globally. Both Ms.Zheng and Mr.Zhang gave speech at the ceremony, expressing the confidence and expectation of this long-waited cooperation and the potential synergy it could realize for the two Groups.
In future, BIPPO Group and Thornburg Investment will further explore the opportunities in private wealth structuring, investment portfolio customization, managed account investment service, etc. The two parties will jointly provide clients from The Greater China with premium overseas wealth management service.

Leveraging the profound expertise and first-tiered resources of the core investment team, Thornburg Investment will provide investment portfolio structuring and customized product strategy to the family trust clients of BIPPO Group according to their respective risk profile and return expectation. The jointly managed account investment service for BIPPO clients will include:
Establish the relevant investment guidelines for trust assets in each client sub-account;

Provide investment management or advisory services;

Carry out the trade within the investment guidelines for client trust portfolio;

Timely market insights and investment advice;

Regular portfolio review and rebalance.
In addition, Thornburg Investment will take its institutional advantages to provide BIPPO clients with competitive arrangement of account opening capital requirement and preferential management fee schedule.
Founded in 1982 with headquarter in Santa Fe, Thornburg Investment is a reputable global asset management institution. It has offices in London, Shanghai and Hong Kong to serve investors in different regions worldwide. Experienced in fixed income and equity investments, Thornburg Investment adheres to the concept of "actively managed, strive for excellence". It flexibly adjusts according to the ever-changing market environment, and always takes helping all kinds of clients to achieve their long-term investment goals as their own responsibility by providing clients with high-quality financial products, investment strategies and solutions. Thornburg mainly provides services for institutional clients. As of 31 May 2021, client assets under management via U.S. mutual funds, institutional accounts, independent accounts of high-net-worth investors and UCITS funds of non-US investors amounted to $46.6 billion USD with another $1.9 billion USD assets under advisory service arrangement. 
Thornburg Investment chose BIPPO Group as its first strategic partner to mark as its entry into the Asian private wealth management industry. The achievement of this iconic cooperation is based on the mutual recognition of the capabilities by the two parties as well as the core values shared. It also reflects the confidence in the potential of the Greater China private wealth market.
Since its establishment, BIPPO's persistence and pursuit of professionalism and pragmatism have never changed. The Group itself not only has a number of professional licenses, but the core team members have extensive industry experience in related fields for more than ten years. The core team consists of members with various professional qualifications including CFA, CICFP, CPA, CTP and membership qualifications of reputable industry associations such as STEP, HKTA and HKICPA. At the same time, BIPPO is constantly looking to expand its resource network and establish cooperation and alliance with external top-tiered institutions so as to jointly meet the diversified and comprehensive wealth management needs of clients. As of today, BIPPO Group has developed cooperative relationship with around 30 institutions in various fields including asset management, banking, taxation, immigration, etc., which can provide services for BIPPO's private clients in dozens of countries and regions.(Learn more about Bippo Business)
The strategic partnership between BIPPO Group and Thornburg Investment is another boost to the financial service and resources provided by BIPPO Group. By continuously enhancing internal professional calibre and expanding the external resource network, BIPPO Group is set to deliver better private wealth management services and solutions to its clients.